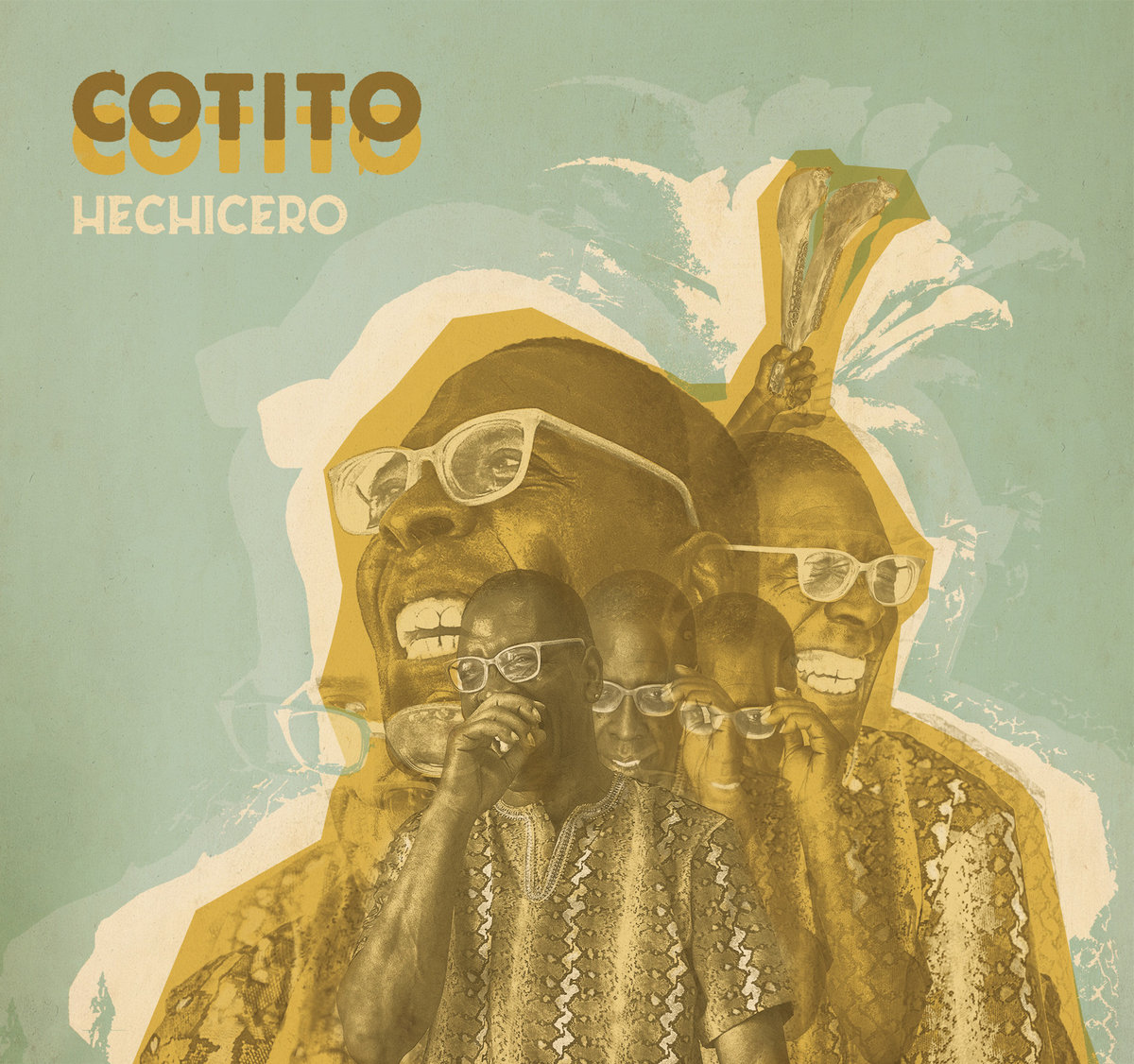 Cotito, Hechicero (Perspectives on Afro-Peruvian Music. The Collection Vol 2), Peru, Buh Records, BR114 CD / vinyl (2019)
Juan Medrano Cotito is a singer-songwriter and performer on the Peruvian cajón (a box-shaped wooden percussion instrument played on its front and back while the performer sits on top) and a major figure in contemporary Afro-Peruvian music. "Hechicero" (meaning "sorcerer" in Spanish) is the second volume in the series "Perspectives on Afro-Peruvian Music" an archival investigation into the African tradition and influences in Peruvian folk music.
Performed on an array of amazingly inventive and unusual instruments like the cajón, the cajita (another box-like percussion instrument played by opening and closing it) and the jawbone (usually of a donkey or a mule: one end of the jawbone is held in one hand and its other end hit with a stick, making the teeth in the jawbone rattle; the teeth can also be scraped up and down with the stick) along with various drums, guitar and bass, with singing from the musicians including Cotito himself, the music is light and rhythmic, often resembling the galloping beat of horses, with a clattery sound. Even though on some songs, the only instruments present are beat-oriented percussion, the inherent melody can be discerned from the vocals. Guitar is surprisingly spare, even skeletal, on most songs as well. A number of songs including the title track are dedicated to three past pioneers of cajón music: Julio Algendones, Manuel Vasquez, known as Mangüé, and Eusebio Sirio, known as Pititi.
The album is a very enjoyable listening experience with exuberant beats and rhythms, and equally joyful (if restrained) singing. Later songs like "Ronda de Tondero" and "Zamacueca" are dedicated to the tondero and zamacueca dances and the music associated with them, and feature more guitar melodies; listeners may warm a bit more to these tracks than to the more purely percussion-oriented tracks with their choppy, brittle sounds. I daresay though that the more you listen to this album, the more mesmerised you'll be by all the music and the instruments (yes, even the jawbone) that were used in the performances. Each track has its distinct if unassuming charm and is certain to grow on you.
The CD version of the album features a bonus track performed by zapateo dancers tapping out percussive rhythms with their feet (similar to flamenco, a major influence on zapateo dance) and Cotito and another singer, Veruska Verdu, on vocals.