Matthew Revert, An Insect on the Other Side of the World Climbing up a Table Leg, Caduc CD #CA17 (2016)
A beguiling work composed of spoken word monologues, field recordings, samples, occasional acoustic guitar noodling and off-key singing, "An Insect …" heralds a growing body of experimental music by Melbourne-based absurdist novelist / graphic designer Matthew Revert. This recording nods in the direction of improv, drone, light noise and neo-primitive folk without being captured completely by any of these categories. It's quite a busy release with hardly any pauses or lapses in the continuous free-form patter of sound and I marvel that Revert is able to keep up the brisk pace without losing a beat. (Of course there would be have been a lot of cutting and pasting but any joins can hardly be heard.) All the sounds appear to be completely natural with very little processing and they are right at the forefront of the mix.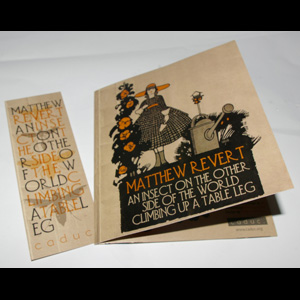 Listeners might feel a little too close to the action for comfort – there's a phone conversation that they'll be eavesdropping into, and Revert (I assume that Revert does all the monologues) mumbles under his breath and almost appears to drift into sleep – and possibly much of the intimacy feels too forced. Towards the end of the recording, sounds from the external environment – radio song, a soap opera soundtrack, half of a conversation – intrude into the musical narrative and turn it into something more forbidding and impersonal. It's as if Revert's private space which he has deigned to share with us is being invaded and torn apart.
Not too long for the stream-of-consciousness novelty value to turn kitschy and stale, and not too short either, this quirky work has much charm and many surprises. TSP readers need to hear it for themselves as to what meanings or messages (if any) it may have – but I need to warn you, the more you listen to it, the more you'll wonder what it's meant to be about. At least the cover art (done by Revert) is easy on the eye and looks as if it means something … or does it when you see the blank face and read the strange messages?