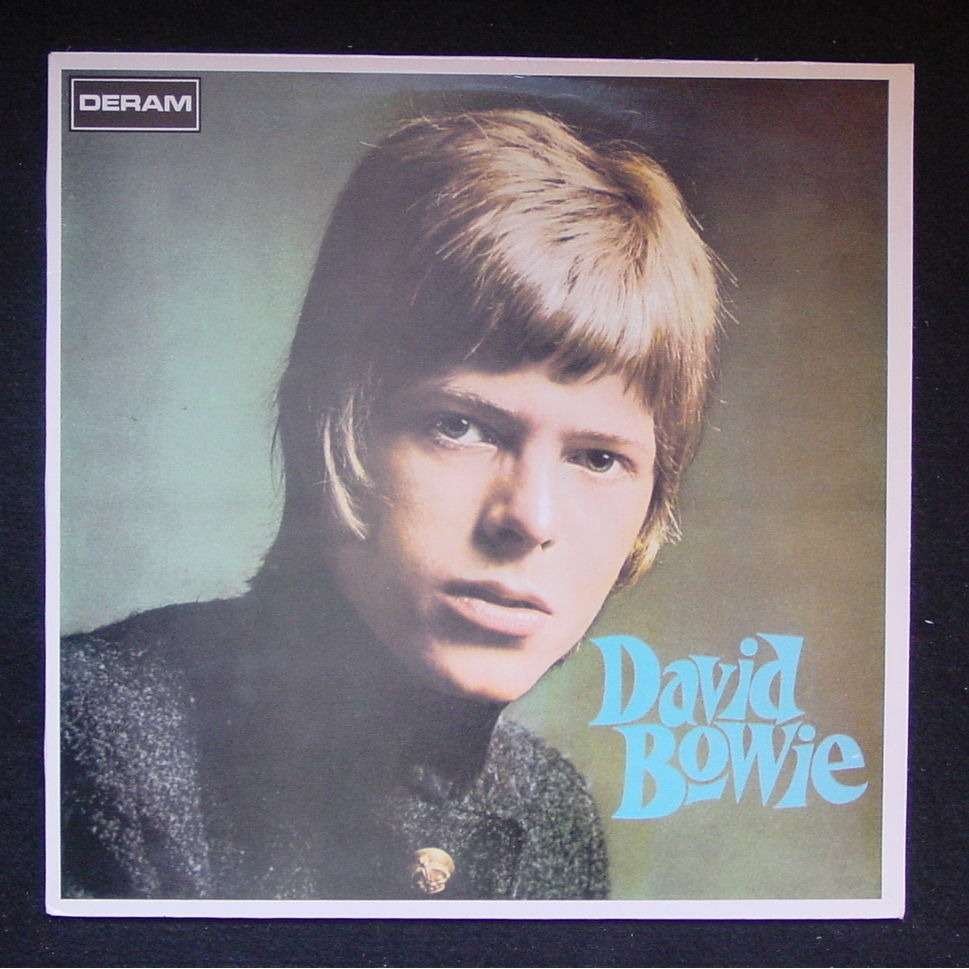 David Bowie, self-titled, Deram Records (1967)
June 1st, 1967, was a significant day in the history of British rock and pop: an album by a highly influential act was released on that day. Naaah, I didn't have The Beatles' "Sgt. Pepper's Lonely Hearts Club Band" in mind, important though that work might be in some people's eyes. Besides, contrary to what is often believed, that particular recording's release date was brought forward a week by its label EMI in Britain so the release date was actually May 26, 1967, instead of June 1st, 1967.
No, on that day, that hallowed day, the world was blessed with the release of David Bowie's self-titled debut album. WHA-A-AT? you say, David Bowie's first album, the one consigned to mental attics around the world as some unwanted and unloved mad relative of classics like "Low", "Heroes" and "Station to Station"? Well yes, I want to rescue that album from its current inglorious status as one of the black moments in Bowie's long history as an artist, equivalent to those seedy little pornographic flicks that famous actors always regret making while they were down on their last dollar as drama graduates way back when in the mists of time. As black moments go, "David Bowie" turns out to be much, much lighter in colour than people, even diehard Bowie fans, might make it out to be – c'mon, folks, can the same be said of other black moments in Bowie's recording history like "Never Let Me Down"?
Well, I'll grant that most of the music on "David Bowie" isn't what you'd expect of an ambitious up-and-coming teenage pop singer: it often sounds twee and the minimal "play safe" approach doesn't always suit the lyrics on several songs which cover themes and topics such as alienation or lack of connection with others, longing, futuristic dystopias in which irrational crowds follow self-proclaimed messiahs, fluid gender identity, population control, serial killing, necrophilia and paedophilia among others. (Some of these themes were to arise on future Bowie albums again and again.) Certainly the music on songs like "There Is A Happy Land", which depending on one's interpretation can carry a chilling message about the alien nature of youth, seems at odds with the track's theme; on the other hand, its relaxed and stripped-back nature highlights the lyrics and Bowie's crisp style of singing which varies from one song to the next. Quite a lot of vocal gymnastics is involved and if Bowie had had some training at this point in his career, the album could have been a very remarkable one for his vocal range and adventurous singing. There's also the possibility that Bowie found juxtaposing dark and disturbing lyrics with seemingly happy or comic music intriguing and amusing, and he would not have been the first (certainly not the last) artist to discover that the happy pop song format is an ideal medium for conveying otherwise sinister messages.
Why Bowie chose to write and record his debut the way he did, with the music, the visually colourful lyrics and the sometimes disturbing messages they carry, we may never fully know. Legend has it his manager at the time, Ken Pitt, may have pressured the young singer into becoming an all-round entertainer with old music hall and vaudeville influences, and recording the album with that goal in mind. The irony of course is that Bowie eventually did become an all-round entertainer by following a different if perhaps more zig-zagging path.
Even so, with all the faults of this approach which ill-suited Bowie, several songs on the album have their own sweet and whimsical charm, and if you let them they can grow on you. Bowie's singing which sounds surprisingly mature, even a little "old man"-ish for someone of his age, has a very distinct flavour at once intimate yet suggesting its owner might have access to some deep well of gnostic knowledge. The lyrics are often funny, self-deprecating and wry at the same time, and strong visual imagination and inventive, cunning wit are at work here. Bowie's wacky and bizarre sense of humour – which never ch-ch-ch-changed over the years – is in full flight across several songs with a number of them containing very subtle twists in the tales they tell.
There are songs here ("When I Live My Dream", "Sell Me A Coat" and "Silly Boy Blue") that could have been reworked with different music arrangements and re-released, and no-one would guess that they'd been on this album. "Silly Boy Blue", referencing Bowie's life-long interest in Tibetan Buddhism, in particular imitates Tibetan-style droning music and rhythms and a later treatment could have incorporated actual drones and invited experimentation. "Join The Gang" enjoys a brief burst of avant jazz improv at its end which could have been extended to cover the whole song.
If one chooses to listen to the whole album just for Bowie's voice, lyrics and subject matter, one will find very little filler even in songs with the most godawful crap music. With regard to experimentation, several tracks are quite good, given Bowie's inexperience and the guidance he had, though they could have done with more and one track – it's my favourite of the whole album – that will surprise listeners is the last song, "Please Mr Gravedigger", sung entirely a cappella with just ambient effects as accompaniment. Now that's what I call experimental!
Fifty years ago today, a star man came out to play … it's time for this particular mad relative to come out of the attic and show us all how really mad it is!