Häx Cel, Zwai, Germany, Garden of Delights, CD 056 (reissued 2001)
For those keen on old 1970s progressive rock but wish so much of it wasn't slathered in, er, electric guitar – well I hate to say, electric guitars do tend to come with the territory – here's an interesting recording of a live concert by Häx Cel, a four-piece from Hannover in northern Germany, in 1972. This recording turned out to be the only album the group ever made; indeed, this and a single the band also released were the only works Häx Cel made in its short life. Made up of flautist/singer Dieter Neumann, pianist / harpsichordist Achim Neubauer, bassist Michael Moebus and drummer Rainer Greffrath, Häx Cel was inspired by early 18th-century Baroque composers such as Tomaso Albinoni, George Handel and Johann Sebastian Bach to create a style of music with clear melodies and tight arrangements fused with prog rock improvisation and virtuoso playing.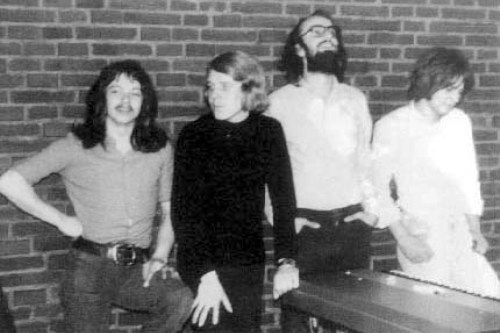 First track "Albinoni" proceeds in a manner typical of Baroque music from the 1700s: stately and graceful, with minimal arrangements. Second track "A Second Time" is where the band starts to fly with jazzy spirited flute playing and enthusiastic drumming. Unfortunately the vocals are sub-par and the lyrics (in English) are often as bad so the burden is on the instruments to stir up some virtuosic and energetic inter-play, especially among the flute, keyboards and percussion, and create memorable and evocative moods and atmospheres. Drummer Greffrath certainly works himself into a frenzy on tracks like "Julius Caesar", more than compensating for a lacklustre reading by Neumann from William Shakespeare's eponymous play. Not until almost halfway with "Marsch" does the band finally arrive at a true fusion of the elegant and stately Baroque and the wilder proggy music the guys are itching to play: the initial tune is the launchpad for some inspired jamming. Bass guitar and piano take turns leading the rest of the band.
"Land of Dreams" features the distinctive harpsichord tones which lend a nostalgic feel to the song. For once the vocals aren't too bad and once again Greffrath gives every indication of trying to tear himself away from the leash and go for broke. I don't think the harpsichord is used to best advantage here: it's played here no differently from piano or any other keyboard instrument, and the delicate tones frankly sound quite clunky. "To Barbara", the longest track at nearly eight minutes, features better use of harpsichord as an instrument in its own right jamming with flute and drums hell-bent on following their own inner muses.
While the experiment in fusing 18th-century Baroque and progressive jazz rock influences does work, the result seems a bit too polite and mannered when the musicians should be following Greffrath's lead and let fly with raw passion and enthusiasm. The production isn't great and some of the music's edge may have been lost. All the same, there are some beautiful melodies and the flute playing and drumming are excellent. This album is an interesting obscurity that deserves to be heard at least once.