Chrch, Light Will Consume Us All, United States, Neurot Recordings, CD NR111 (2018)
Unlike most church services I've attended in the distant past, this particular sermon, lasting some 45 minutes, keeps me alert and awake all the way through. While parts can be overly long and a bit repetitive, at least Chrch delivers plenty of brutal doom and gloom, both in heavy grinding sound and equally heavy foreboding, even apocalyptic atmosphere. As icing on the cake, this Sacramento-based denomination is led by a fiery Valkyrie (sorry, mixing up my metaphors, simply 'cos I like to do that) called Eva Rose who screams and wails like the most damned of all banshee witches (there I go again). True, at times the thick lava-like bass grind threatens to roll over her but Rose always just manages to leap out of the way and into the dark background ether that is her natural home.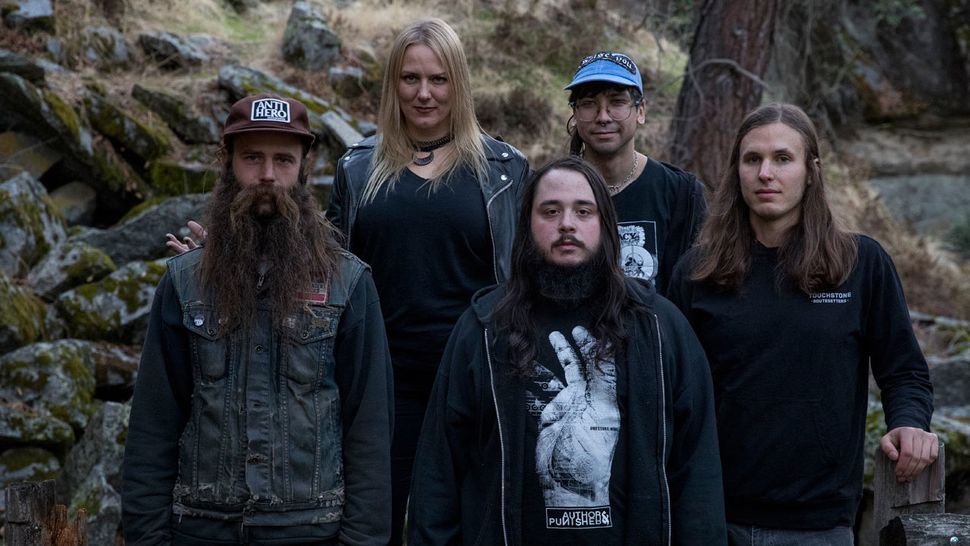 Intro track "Infinite Return" slowly but steadily and majestically initiates the listener into the service with martial percussion thunder, a doleful clean-toned guitar riff and plenty of black suspense; when the ritual proper begins, it erupts with dread emphatic finality, slashing jagged-edge riffs that cut painfully deep and Rose's wails, at once screechy-witchy and slightly raspy. About halfway the music cascades into deep crumbly rumble and a lone guitar melody survives and continues a lonely shadow path through sorrow and quiet longing. The song climaxes in a melodic doom / post-metal coda, dream-like and blissful, with Rose's vocals reassuringly guiding us towards the next part of the ritual.
The following track "Portals" is rather more straightforward sludge doom metal, not quite the transformative piece I had expected from its title and its position in the middle of the album, but still very immersive. The frying, crumbling sound, the slab-like riffs, the glacial pace, the undulating bass groove (the best part of the track) and Rose's ghost-like vocal, seeming disembodied and far away, should make for a hypnotic, consciousness-expanding experience but somehow the band never quite reaches that level. "Aether" is a fairly mild track, less sludge doom and more atmospheric, pensive post-metal, at least until its final few minutes when it erupts into black metal / post-metal anger.
I'd have liked this album to be a bit longer with more lingering atmosphere on the songs, a little bit less melody and moments where the sludge doom metal simply dominates with sheer pounding drum thunder and a grinding bass guitar sound that rips paint and underpaint off walls. The music moves a little too quickly for the band's signature epic doom grind sound to corrode the brain all the way from the top of the skull to the spinal cord. The combination of sludge doom and atmospheric post-metal elements is an interesting one that opens up musical and lyrical territories for the band and which should help the musicians gain plenty of converts. If the band continues to develop and refine its style and direction, and Rose stretches her range from screeching demon witch to soothing angel, I see no reason why Chrch should not be a pacesetter in a new genre of metal.